Good news!
The local multiple service has combined forces with Metropolitan Regional Information Services (MRIS) and is now called BRIGHT Multiple Listing Service (MLS).
There are several enhanced functionalities available to you– my client– as a result of this upgrade. One of them is your own client portal that I will set up so that you and I can review, correspond, and search for properties together, securely and conveniently and on any device.
My favorite feature is the customer property ratings: If you love the listing, save it as a favorite. If you are curious about it save it as a possibility, and if you absolutely don't like it, you can discard the listing never to see it again in future searches.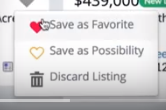 This feedback helps you and also helps me continue to search for potential properties that I think you'll like.
Your individual client portal is built on top of the BRIGHT MLS and includes data that is updated much more frequently than other real estate marketing and data sites such as Zillow, Trulia, or Realtor. In fact, all of the real estate data for the local region comes from the thousands of real estate agents (like me!) entering data into BRIGHT MLS, which in turns feeds hundreds of other sites including those referenced above. By the time the data is entered into BRIGHT MLS and sent to the other sites, who knows how long that process takes and who else has access to that same data.
In the competitive world of real estate, time is money. And to give you access to the best data in fastest possible way, your own BRIGHT MLS Customer Portal is your best access point to help you find the right home before anyone else finds it!
Using your own portal I encourage you to view the reports that I send from Bright MLS and try performing your own search based on the below video.
My contact information is always found at the top of the page, and best of all, you can comment and ask me questions directly in the portal!
Give it a try and let me know what you think.